Curtiss P-40 7th Fighter Squadron 49th Fighter Group USAAF being serviced in the open Batchelor 1942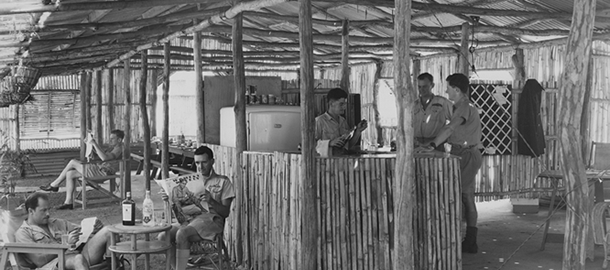 All the comforts of home... The Officers Mess at Batchelor in early 1942
A flight of B-25 Mitchell bombers 18 NEI Squadron setting out from their base at Batchelor 1944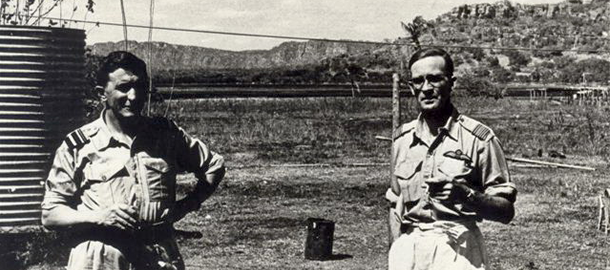 The almost legendary pre-war Flying Doctor, Clyde Fenton (right), commanded No.6 Communications Unit at Batchelor from 1942 to 1945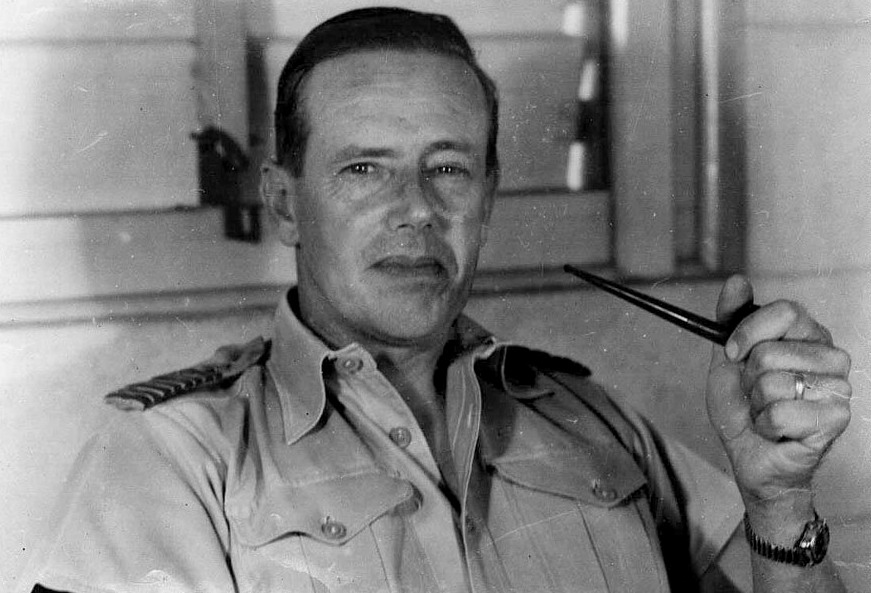 Group Captain Charles Eaton Commanding Officer of No.79 Wing at Batchelor 1944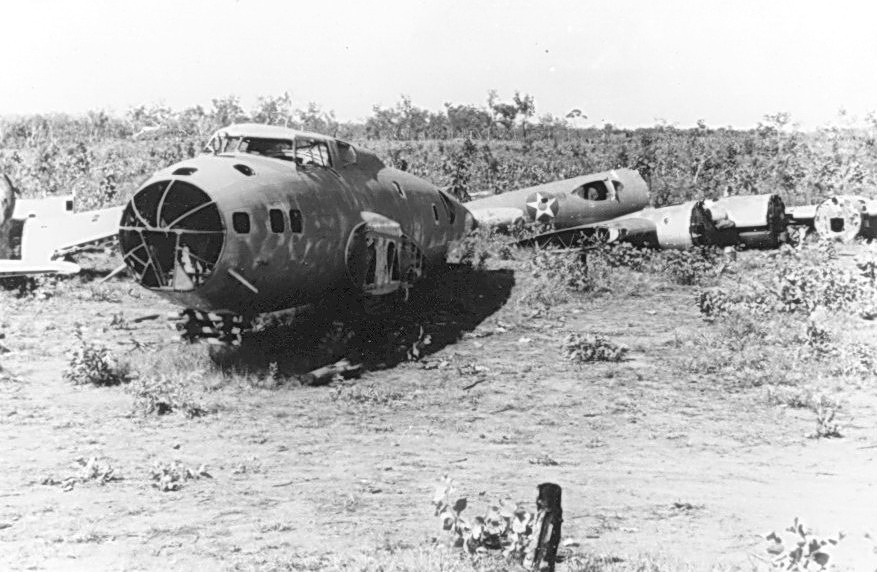 The wreckage of Boeing B-17 Fortresses of the 19th Bombardment Group USAAF lie in the Batchelor aircraft graveyard 1942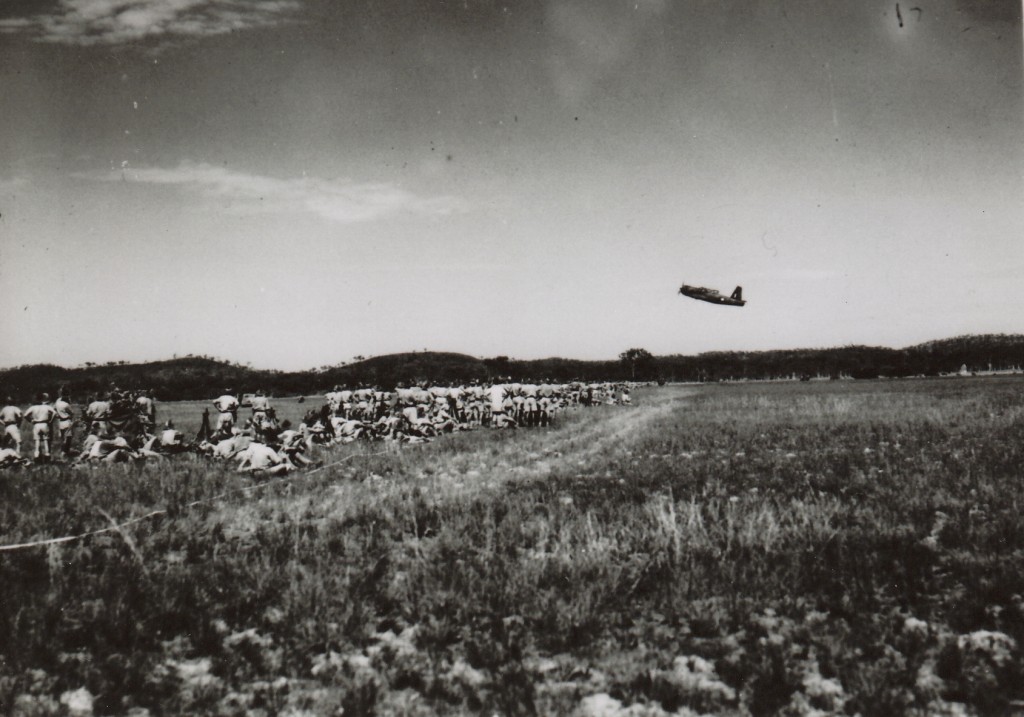 A Vultee Vengeance of 12 Squadron RAAF demonstrates its dive bombing capabilities at Batchelor in late 1942
An Avro Anson one of the many types operated by No.6 Communications Unit under the trees at Batchelor 1944
Batchelor During The War Years
Cleared as a civil aerodrome in 1933 on what was part of the former Batchelor Farm Darwin, Batchelor Aerodrome  became an important base for Allied Air operations during the war years from late 1941.   
The  'drome'  became  a  RAAF  base  on   3rd July 1941  and on  22nd  December  that  year  the  first  missions  against the Japanese from Australian soil were flown by B-17 Flying Fortresses of the 19th Bomb Group USAAF when they bombed the Japanese in the Philippines.
In early 1942 No. 12 Squadron RAAF and its Wirraway aircraft moved to Batchelor on 17 February and were later joined by No. 2 Squadron and its Hudson bombers. Other units followed, including the USAAF's 27th Bomb. Group, the 7th Squadron 49th Fighter Group and the 46thAir Base Group. RAAF units included 2 Air Ambulance Unit and 34 Squadron.
General Douglas MacArthur and his party of evacuees from the Philippines staged briefly through Batchelor on 17 March 1942 before travelling on to Alice Springs and Melbourne.
The aerodrome became a RAAF administered Operational Base Unit in March 1942 when 83 OBU formed there and was used briefly by B-26 bombers of the USAAF's 22nd Bomb. Group during November, when they flew missions against the Japanese on Timor in support of RAAF Hudson operations.
Protection against potential Japanese raids was provided by Anti-Aircraft Batteries including 22 HAA Bty, 134 and 153 LAA Btys, 53 and 54 Composite A-A Regiments. Two raids against Batchelor were recorded; on 24 October 1942 and on 12 November 1943, the last by the Japanese over northern Australia.
Batchelor was also used as a transit base by RAAF and USAAF units awaiting completion of their permanent bases and included the 9th Squadron USAAF, 31 Squadron and Spitfire units of No. 1 Fighter Wing RAAF, and the 380th Bomb. Group USAAF.
In February 1943 No. 6 Communications Unit commanded by the Northern Territory's legendary flying doctor, Clyde 'Doc' Fenton, arrived at Batchelor followed by No. 18 NEI Squadron, a mixed Dutch and RAAF bomber squadron, during May. The Mitchell bombers and crews of 18 NEI Squadron moved to the Netherlands East Indies as part of Group Captain 'Moth' Eaton's No. 79 Wing in 1945 while 6 Communication Unit remained before moving to Darwin's Parap Civil Drome later that year.
The last units remaining at Batchelor were No. 3 Wireless Unit, which departed on 27 November 1945 and 83 OBU, which moved out on 20 February 1946.
Over the war years Batchelor hosted some 36 individual RAAF, USAAF and Dutch units before reverting to its civilian role post war. The aerodrome now serves as a general aviation and maintenance facility and as the hub for gliding activities in the Top End.
Batchelor Aerodrome
Written for the Batchelor Museum website By Robert Alford, 2011.
© R. N. Alford 2011